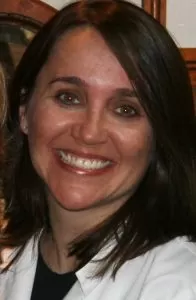 Dr. Jane K. Lambertus is a high energy and intensely focused person. Her passion and enthusiasm for dentistry and her sincere interest in her patients is contagious. She has an amazing eye for cosmetic dentistry and draws upon her team to make the best impact.
Dr. Jane K. Lambertus received her undergraduate degree from the University of Arizona. She then attended Baylor College of Dentistry, a Member of the Texas A & M Health Science Center in Dallas, Texas were she graduated in 2002. Since graduation from dental school, Dr. Lambertus has maintained a commitment to the health and comfort of her patients. Her practice is centered on a philosophy of care and service that serves to exceed patient excellence.
Dr. Lambertus knew education was critical. She feels that the best measure of a doctor's commitment to her patients is continuing education and training far beyond the basics of general dentistry. She researched several post graduate teaching facilities, finally choosing the Hornbrook Group, Center for Advanced Clinical Education. Dr. Lambertus found that the Hornbrook Group was on the cutting edge of teaching advanced procedures utilizing the most modern technologies and materials available in the dental industry. Dr. Lambertus enrolled in the Hornbrook Group in 2003. She has completed many courses designed to teach the most advanced methods of cosmetic dentistry including: Comprehensive Aesthetics (a hands on course for anterior porcelain restorations), Ultimate Occlusion (concentrating on the health of the bite and proper alignment of the jaw), and Full Mouth Synergy (a hands on course teaching full mouth reconstruction).
Dr. Lambertus is an involved member in many professional organizations including the American Academy of Cosmetic Dentistry, Crown Council, American Dental Association, Arizona Dental Association, Northern Arizona Dental Association and the American Academy of General Dentistry.
Dr. Lambertus moved to Prescott in 2002 to be closer to family. She enjoys spending time with her husband, two children and best buddy Willy (family dog). Her deepest passion is playing ice hockey, but she also enjoys spending her free time hiking, snowboarding and traveling as often as she can.